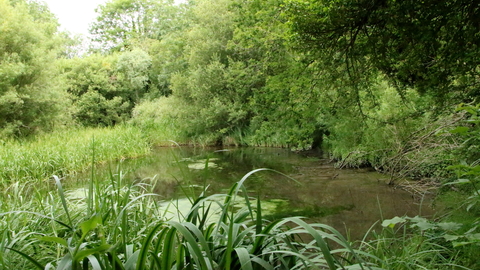 Jones's Mill the Vera Jeans Reserve
A fen, made up of wet woodland, ponds and wet grassland.
Location
OS Map Reference
SU169611
View on What3Words
Know before you go
Dogs
See our FAQ's for more information
When to visit
Opening times
Open at all times
Best time to visit
Spring and summer. Nearby attractions include Fyfield Down National Nature Reserve (6 miles), West Kennet Longbarrow (6 miles), Silbury Hill and Avebury (7 miles).
About the reserve
Jones's Mill is a fen, made up of wet woodland (called alder carr), ponds and wet grassland. Its peaty soils are fed by natural springs and the Salisbury Avon flows through its centre.
A Coronation Meadow lies to the west of the reserve, where yellow rattle seed and green hay were taken and spread from Clattinger Farm. 
In the past a watermill was believed to have been built on the site but more recently the land was grazed by cattle to supply milk. Watercress was also grown here for markets in London. The central part of the reserve was given to us in 1980 by local resident Miss Vera Jeans.
The reserve has ditches, ridges and furrows - evidence of its past use as water meadows. It is home to wildlife that thrives in wet conditions - water voles, dragonflies, the elusive water shrew and birds such as kingfisher, snipe and heron. Great horsetail grows in the alder carr; their bristles have a high silica content making them look like bottle brushes. The alder carr leads to the tussock sedge fen. As the plant grows, the dying leaves build up around the base making little 'tussocks'.
In spring and summer it bursts into colour with yellow flag iris, lady's smock and water avens, southern marsh and common spotted orchid. Rare plants include the bog bean, bog pimpernel and flea sedge. If it wasn't grazed the fen would turn into woodland. By keeping vegetation in check the cattle help to maintain a rich diversity of plants.
Habitat
Environmental designation
County Wildlife Site
SAC SSSI
Site of Special Scientific Interest (SSSI)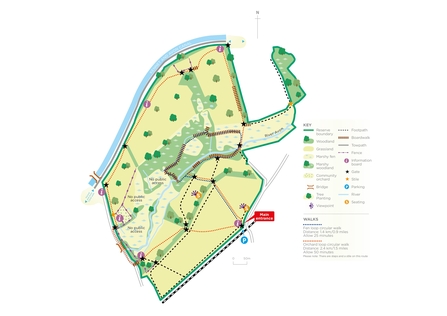 Upcoming events at Jones's Mill
Great place, lovely views and fab walks for all the family, one of my favourite places to go at anytime.
Nice walk but take your wellies!